A couple weeks ago I mentioned my new book, Better Together. I've ordered printed copies to send out to partners while we are visiting the USA this summer, and I look forward to giving those away! In the meantime, if you'd like to check it out and purchase the e-book version, you can do so on Amazon.
Here's the link: https://www.amazon.com/dp/B0731BP4CV
We're still finalizing some details for our trip to the USA. It's going to be a great time of refreshing, and we look forward to seeing friends and family. I'll also be ministering in a few places, which I'll mention as we get closer to the trip. If you'd like to sow into our time Stateside, we welcome you to do so. Traveling is one of the costlier sides to the work we do.
Also, I want to share a quick testimony. In April, during Easter week, the Lord led us to reach out in the Sikkim State Prison. After that initial outreach, we pursued the possibility of holding monthly meetings with the inmates. By the grace of God, our request was permitted and we have monthly meetings scheduled for the rest of this year.
Here's a picture from our visit a couple weeks ago: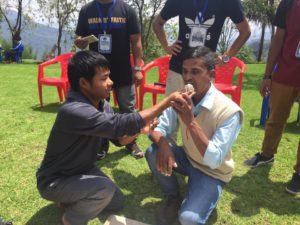 We decided to bring birthday cake with us to celebrate those in prison who had a June birthday. As it turned out, the two men pictured here had birthdays and they happened to get in a fight earlier in the day. It was a wonderful time of reconciliation for them, and set the stage for us to share the love of Jesus. There are over 200 inmates that we'll be discipling the rest of this year.
Thanks again for your prayer!
Mike & Family